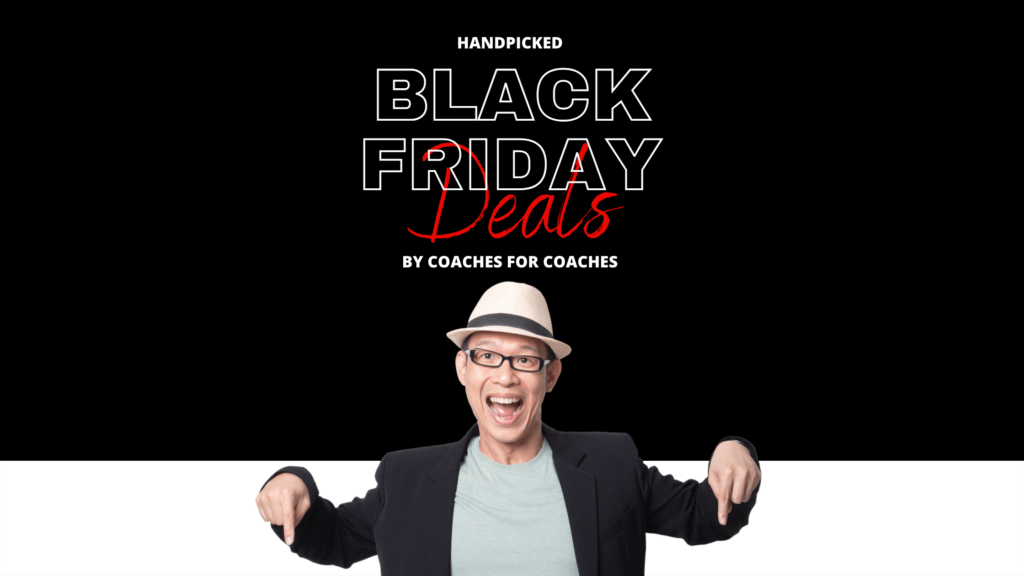 Look what we've found!
Without much talk (we all know the deal with Black Friday), here are the best Black Friday deals for coaches we've found on the web that coaches like you might like. These Black Friday deals for coaches are scouted by other coaches, who use the same or very similar business software or business services to run their coaching businesses.
We will update this page until after Cyber Monday to add 2022 Black Friday Deals for Coaches in one convenient place. We consider Black Friday and Cyber Monday to be one and the same from a commercialization standpoint. To find deals throughout the year, make sure you bookmark our Deals & Promo Codes page.
Please note, we are an affiliate with many of these companies. If you made a purchase using our links to get redirected, we may receive a commission. Putting this together is a lot of work and we are thankful for your trust in our ability to find great information like this for you. Your clicks mean the most to us! =)
Happy Black Friday and Cyber Monday shopping!
Coaching-Specific Black Friday Deals For Coaches in 2022
Let's start with deals that are purely made for coaches. We count coaching software, coaching books, and other tools and services into this category and separated it from other business deals any entrepreneur can use so you find what you are looking for faster. We hope there's something you like among these!
To make use of these Black Friday deals for coaches, simply click on the links to get redirected to the deal page. In some cases, you will need a coupon code to activate the deal. In that case, copy the code here and then click on the link and proceed with your transaction until you see a field to enter a promotion or discount code and hit "apply."
Load up your template library! Coaching worksheets, programs, exercises, workbooks, and even social media graphics that are ready to share with or without brand customization!
► Get 25% OFF EVERYTHING!
⏰ (valid NOW until …Cyber Monday?)
Want to start a coaching business in the next 30 days?
Then this is the book for you.
► Get this book for FREE for only one day on Black Friday!
This is for coaches who want a step-by-step guide to starting a coaching business – with practical worksheets and tons of links to other resources.
⏰ (valid Nov. 25)
Get your own business coaching, including worksheets, templates, courses, books, and more, and grow your business in 2023!
► The Coaching Business Clinic™ is giving coaches 20% OFF of their annual membership this Thanksgiving.
⏰ (valid Nov. 25-28)
Do you want a ready-to-sell, out-of-the-box coaching solution? Here is one for Career Coaches. It comes with an entire coaching program, website template, worksheets you can customize, lead magnets, a full masterclass to generate leads, and presentation material for your group coaching! But there is so much more included! Coaches paid just under $5,000 for this bundle in 2022, which will be on crazy sale this holiday weekend.
► Get the entire business in a box for only $749 (>80% OFF!) on Black Friday.
► After that, get 20% OFF until Nov.28.
⏰ (valid Nov. 25)
Paperbell already offers an amazingly simple and beautiful coaching platform at an affordable rate. They have added a ton of features and will increase the price come December 1. However, this Thanksgiving, you can lock in the current rate for another year!
► Get Paperbell for only $50 instead of $57/mo.!
⏰ (valid NOW until Nov.30)
Improve your coaching conversations and public speaking abilities with your personal speech coach! The platform analyzes your online meetings and gives you direct improvement feedback.
► Get this tool for a lifetime fee of only $49 while supplies last!
⏰ (valid until all seats are gone)
Save your hard-earned money and get this LIFETIME* deal with TidyCal. It's as easy as Calendly and the fastest way to let clients schedule your meetings.
We wrote about Trafft in comparison to Calendly. It's a great alternative that has an amazing Cyber Monday promotion:
► Get 20% OFF basic, 30% OFF pro, 40% OFF expert plans
⏰ (valid Cyber Monday)
* Lifetime deals: see more below under the headline "What Are Lifetime Deals"?
2022 Black Friday Deals for Entrepreneurs
Now to the deals any entrepreneur can use. Some of these have deals throughout the year, but nothing nearly as jaw-dropping as during Black Friday and Cyber Monday. For more deals throughout the year, keep coming back to the deals & promo codes page, where we add and update deals we find every week!
Automate beautiful-looking emails and follow-up sequences that deliver value to your contacts every step of the way – like clockwork!
► Grab a deal this holiday with this link for 30% OFF!
⏰ (valid Nov. 25-28)
Email marketing made simple. Get this LIFETIME* deal with SendFox and send beautiful newsletters, create super simple landing pages or set up your first email sequence with simple automation that your 5-year-old could handle!
Build your website like a professional designer with easy-to-use tools that make web design as easy as putting together your Thanksgiving dinner plate! Seriously.
► Grab your deal at their BLACK FRIDAY 30% OFF Sale.
⏰ (valid Nov. 22-30)
Need a professional email signature with social media icons linked to your profiles? Perhaps a custom link to a landing page where you showcase your books, courses, or coaching programs? Here's software that helps you look professional while improving your marketing game with every email you send!
► Lifetime deal (read more about lifetime deals below)
Start your website, register your URL, or migrate your hosting – now is the time with ► up to 97% off until the end of November.
⏰ (valid Nov. 25-30)
Need a more secure internet connection that protects your privacy and your client information? With cybercrime constantly rising, you absolutely do!
NordVPN helps you to do that on all of your devices.
► 3 months FREE for 1- or 2-year Standard, Plus, and Complete plans
► 2-year plans for an astoundingly small price of only $2.99/month!
⏰ (valid Nov. 25-30)
Hubspot is one of the most popular CRM tools (customer relationship management) out there.
► Get 25% OFF across all plans and tools.
HostArmada is hands down THE BEST web hosting provider (read more) with a caring and fast customer service team!
► Get Premium Shared Hosting for $2.49/mo + FREE Domain (with a 4-year plan)
► EXTRA 10% OFF with the promo code "BLACKFRIDAY".
Create your own videos – faster – and look like a pro! Use templates, easily convert videos to different formats (reel, 16:9, square), add intros and outros, etc.!
► This popular software goes on sale for 40% OFF with code "CYBERM40"!
⏰ (valid Nov.21-Dec.1)
Get your website ranked on top of Google!
RankMath helps you with an easy-to-use website and content optimization tool to create content that will be found by your audience.
► This Black Friday, the Rank Math PRO plan is available for only $49/year!
Maximize your audience! Invite guests to your show or meeting and instantly multiply your viewership by accessing a larger audience than you would have with your standard video conferencing tool!
► Get 6 months for free / 50% OFF
⏰ (valid NOW until Black Friday)
Semrush helps you with keyword searches so you can create content people actually want to read. The tool helps you to identify the highest-ranking keywords and helps you to get insights into trends you can use to your advantage.
► Save over $600 with 40% OFF a 3- or 6-month Guru plan and get an additional 500 keywords to track, plus loads of additional advantages.
⏰ (valid Nov. 25 – Dec.3)
Do you have links you want to share in your social media profile? Here's a low-cost solution that only requires a one-time payment (lifetime deal*).
* Lifetime deals: see more below under the headline "What Are Lifetime Deals"?
2022 Black Friday Deals on Amazon
Perhaps 2022 is the year to up your audio game and upgrade your coaching office with a professional microphone, a fancy backdrop, new office gear, and maybe even a convertible standing desk. We've looked on Amazon to find things that entrepreneurs or solopreneurs put on their wish lists. And since everyone these days seems to love preparing for all events while saving costs and keeping the lights on, we've thrown in some deals we'd think you like, for example, how about a power bank or solar generator so you will never be without power and can keep powering your laptop and coach your clients when all other lights are off!
To see the deal price, click on the image as some of the prices will only display on the Amazon shopping pages or when added to your cart.
What Are Lifetime Deals?
Lifetime deals are deals that require you to only pay once for lifetime use of the product or service. With as many subscriptions as you probably have, it can quickly become a nightmare to keep track of it all. Signing up for a lifetime deal sometimes has the small disadvantage of getting locked into a specific tier that has limited capacity or features, but if you are exploring new tools to use and aren't sure how much of the premium features you will use in the future, these types of deals may be more than sufficient for you.
In most cases, lifetime deals include all future updates and upgrades inside the tier you sign up for, making this a great deal indeed since you pay once, but benefit from being able to use it indefinitely without monthly or annual payments. From an accounting perspective, this is also a big relief since you don't have to keep track of monthly or annual spending and assigning of receipts to match your expenses.
We are an affiliate: We hope you enjoy our articles. In many of our articles, we review and recommend products and services. Some of them are not affiliated with us, others are. Just so you know, when you decide to purchase items that were referred on this page via a link, we may earn a commission as an affiliate. Thank you if you do use our links – it is a great reward for the work we put in to create this content and we appreciate you!