There's a good reason Delenta has become a rising star among coaching software platforms. Coachilly met the CEO, Sam Samarasinghe, in 2019, when Delenta was already a great platform, but still young.
Since then, Delenta has grown in popularity. This is true for both individual coaches and organizations, who use Delenta as their coaching platform. Their fast growth and feature-rich platform are impressive.
That said, we thought it was a good idea to invite Sam to a live demo to showcase Delenta. See for yourself what Delenta can do for you as a coach. You can watch the live demo on YouTube (also embedded below).
About Delenta
Sam's vision was to create a platform for anybody who's passionate about sharing their knowledge and experience. As a result, the platform was named Delenta, "because we love to acknowledge and appreciate people who like to share knowledge. So, Delenta means: thank you for sharing. "Delen" in Dutch is "share"; "ta" as in, "thank you" in British colloquial. We packed up those two words and we created Delenta.
Delenta means: thank you for sharing.

(Sam Samarasinghe, CEO at Delenta)
Delenta had been covered in our popular article comparing coaching software in a side-by-side review and is also covered in our book, along with other helpful tools to build a coaching business.
The demo video, however, goes into far more detail to show you how the platform looks. Watch the video to help you in your buying decision as you evaluate coaching software platforms.
This review was not sponsored and all views represented in this article are Coachilly's.
What type of Coach uses Delenta?
Delenta was designed to manage the coach-coachee relationship. The platform is suitable for coaches at any stage because it has a "grow-as-you-go" model. That means, the features and pricing are scaleable.
As you grow, you will likely need more features. Delenta covers your growth journey and provides a solution that grows with your needs.
This is also reflected in their pricing model, as you will see next.
Pricing
Pricing is straight-forward and affordable for any stage of coaching. You scale as you grow, meaning, the more clients you have and the bigger your library, the higher the price per month, but the lower the cost per client.
So, as you grow, cost (per client) go down. At the time of writing this article, Delenta offers three simple plans:
Standard @ USD 19/month for coaches who are just getting started. The Standard plan covers 5 active clients and 5 Prospects but unlimited coaching packages and all the standard integrations you need to get started (e.g. Google, Zoom, PayPal, Stripe, Outlook, Mailchimp and more).
Professional @ USD 39/month for coaches who have more clients, need more storage space and want a customizable website and more features.
Premium @ USD 59/month for coaches who are ready to scale and need unlimited clients & prospects.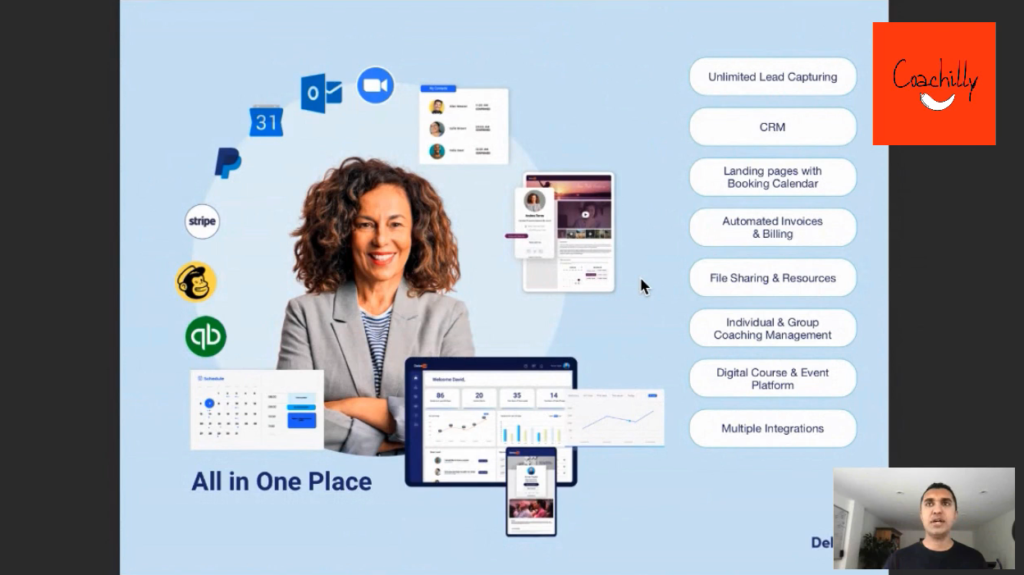 Free Trial
Take advantage of Delenta's free trial period to test the platform. Plan your trial well:
List which features you absolutely need in your coaching.
Prioritize your needs.
Create a checklist before you register and write down what you will test (scenarios).
Set up your test account.
Set time aside to connect with customer support when you run into obstacles so you can test support as well.
Evaluate against your criteria and make a decision.
Testing this way is important: you will unlikely switch providers once your entire list of clients is on your chosen platform and has become your business backbone.
Watch the replay of the Delenta live demo with Sam:
Let us know what you think! If you want a review of another coaching platform or other software, comment below!