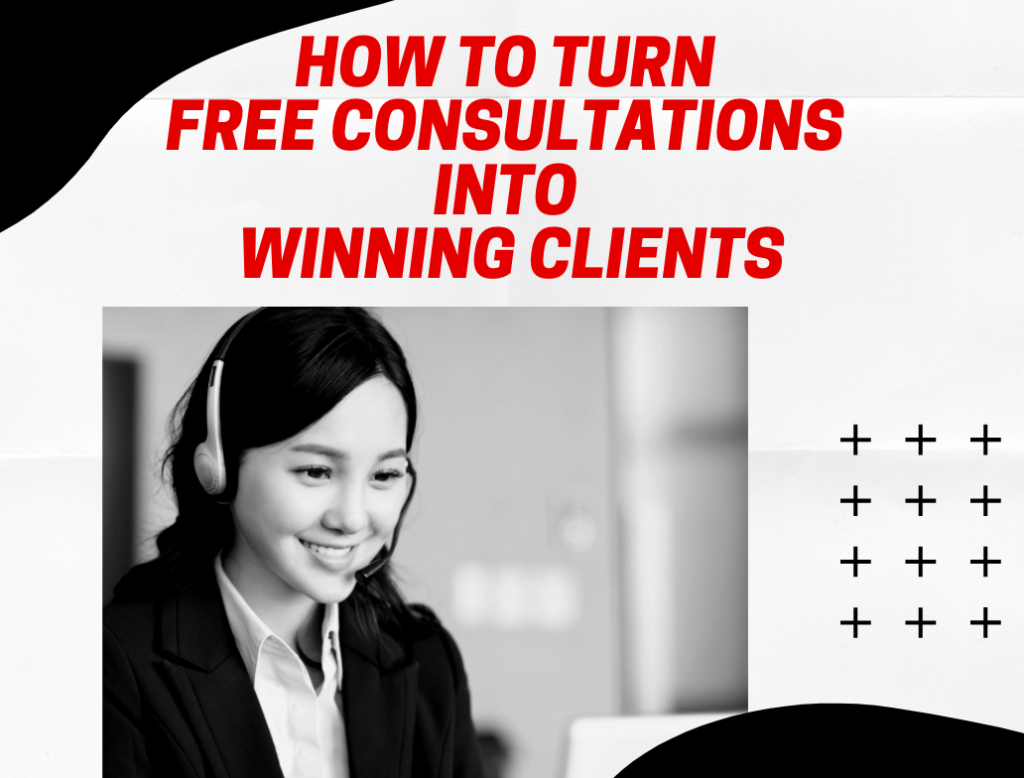 Creating quality leads means engaging in a positive interaction that turns a content consumer on your website or someone with interest in your services into a customer. For successful business development, your sales conversation needs to hit the mark. But how do you master your first conversation with a potential client (a.k.a. leads) so you leave a lasting impression that turns lurkers into fans and ultimately into buyers?
What follows are helpful tips designed to boost your business as you create more leads and convert more people from leads to customers.
Your Landing Page: Attract Clients to a Free Consultation
Before you can have the opportunity for a conversation with a potential client, you need to have a way they can find you. A lead page draws a person to your coaching service. This can be on a third-party platform like Noomii or Thumbtack or via your website.
Your landing page should include information about who you serve, what your typical client looks like, and the challenges they are facing. An excellent landing page will resonate with prospects in your target group if it "hits a nerve" by addressing these challenges. Show how your coaching addresses these points. Include a professional photograph of yourself, testimonials from those who you have successfully coached, and a call-to-action (CTA). CTAs tell your visitors what the next steps are, for example, prompts like "book now" or "schedule a free call."
You can also embed CTAs like "book a free consultation" on your blog. This way, an article from you that resonates well with clients will provide a direct opportunity to get in touch with you.
Definition of a Typical Free Consultation
In a nutshell, free consultation in coaching is a call –ranging between 15 minutes and 60 minutes. Your client provides an introduction of what leads them to look for a coach at this time. You introduce yourself and answer questions your potential client may have. Some free consultations include a brief sample of coaching to showcase what coaching would look like with you. Whether you include this or not, you need to clarify what you offer and listen well to your prospects to understand what they are looking for.
Listen First
Keep the free consultation specific to the needs of the interested person. Ask first about their needs before going into a presentation or pitch of what you offer. This consultation is about them, first. Ask clarifying questions if needed. Make sure you understand the lead's challenges before outlining how you can help. Repeat what they have said to you about their needs and explain your services contextually. The better you can connect your coaching services to your prospective client's needs, the more likely you will have a great free consultation.
Consider Offering a Gift
By offering something of value to your prospect, you can show what you bring to the table. It is also an effective and widely used sales tool because we are wired to return favors – not any favor, but meaningful favors. You don't have to give away everything you've worked so hard to create. Think about something most of your clients need and create a lead magnet. Many businesses provide lead magnets as free downloads in exchange for an email address. Or compile a list of helpful information you can send as a follow-up after the free consultation. As a Health Coach, this may be a recipe or food list. As a Career Coach, this may be a template, a checklist, or a list of resources.
Call to Action
One of the most overlooked aspects of free consultations is closing the sale. You may not like the "sales" aspect of the conversation because you don't want to be pushy. Remember that your potential customer called because they have a need. If the consultation showed that you are an excellent match for the client's expressed needs, it is only natural to talk about the terms of working together.
Create a Script
To prepare yourself for "the money conversation," create a guide or a "script" that helps you organize your call. A script enables you to divide the time on the free consultation call and outline the options you offer. A 'script' does not mean you have to read from the page, nor should you. You're not a robot. A script helps you to internalize the conversation so you can be in the moment, authentic, natural, and not caught up in hesitation and uncertainty because you don't know what to say or how to say it.
Example of a Free Consultation "Script"
Again, you don't read from the script. Internalize it so you are familiar with the flow, the typical questions, and the structure of services and pricing you offer so you are ready to provide this information when the time comes. You can use the example below as a starting point and modify it for your own needs.
[CLIENT]: Hi, this is Emily. I am calling about the coaching. Is this a good time?
[COACH]: Hi Emily. So great to speak with you. What leads you to look for a coach in this area at this time?
[CLIENT]: Yes, thank you for asking. I have been spinning my wheels, I guess. [Client goes on to explain their challenges…]
[COACH]: That sounds challenging. [Coach continues to reflect what s/he has heard and how coaching will address these challenges.]
[COACH]: It sounds like the coaching will be a great fit to help you through those challenges so that you won't be spinning your wheels anymore. Do you agree?
[CLIENT]: Yes, I do.
[COACH]: Great. I do offer different options for coaching with me. Would you like to hear them?
[CLIENT]: Yes, that would be helpful.
[COACH]: Alright!
My first option is a _________ package for $__________.
As option B, I offer _____________ at the rate of __________.
Which one of these do you prefer?
[CLIENT]: Is it possible to switch between these options?
[COACH]: Great question. Yes, that is possible at any time. Just give me at least a ____hour heads-up, and we'll switch you over to the other option. Which one do you prefer to start with?
[CLIENT]: I'd like to start with option A.
[COACH]: Wonderful. I'll have that set up for you today if you can share your email address with me.
[CLIENT]: Of course. Please use (email)@gmail.com.
[COACH]: And what card would you want to use for your payments?
[CLIENT]: Please use _____.
…
Conclusion
What keeps your coaching business alive is the creation and conversion of leads. Successful coaches are effective communicators, and your conversion rate is proof of that. Tweak this until it works for you. Don't be shy to ask for help if you need to in the Coachilly Facebook group (closed group) and get help from your peers. They all face similar challenges at one point or another as they build their business – just like you do. It's essential to keep at it. Refine, practice, and don't give up!