Today, we are reviewing Coaching.com's coaching platform in depth. Every year, we review about a dozen coaching platforms in our popular coaching software comparison. This is the first time that we are covering Coaching.com and we were in for a surprise, so read on.
The coaching industry has not stopped growing and neither did the providers of services to that industry, including coaching solutions, online coaching platforms, and more. The beauty of this is, that the market is beginning to become more competitive. This is driving excellence in the quality of software provided and in the features coaches need to provide effective coaching while recovering valuable time otherwise spent on administrative work.
Before you read on, we want to make clear that we are not affiliates of Coaching.com and we have no benefit if you decided to use this platform.
What is Coaching.com?
Coaching.com (previously: CoachLogix) positions itself strongly in the coaching market by offering three attractive coaching solutions with their all-in-one platform:
A coaching software platform that allows coaches, enterprises, and coaching companies to cover all aspects of their coaching operations. This includes calendar management and allowing clients to self-schedule sessions, invoicing, sharing content, and billing.
A coaching marketplace that allows coaches to be found by clients and sell their offerings. Professional coaches can add their coach bios, offer their coaching engagements and give those looking for coaching an opportunity to easily schedule a first consultation with you.
Continued education via WBECS, a yearly coaching summit with high-profile speakers.
Like all of the providers we have researched since 2018, Coaching.com is a cloud-based platform. It does not require installation and is accessible from any device with access to a standard browser.
In 2022, Coaching.com acquired WBECS, which was well established in the coaching community. This was a smart strategic move, as the company offered a bundle that covered both WBEC's continued education with a platform subscription and should drive user acquisition.
In this Coaching.com Review, we are looking exclusively at the coaching software side of things, not the marketplace (directory) or the educational offering from WBECS.
What Features Does Coaching.com Software Offer?
At a first glance, Coaching.com covers the essential feature set you can expect from leading online coaching platforms in the coaching industry:
Branding
Calendar integrations & Scheduling
Billing integrations & Invoicing
Videoconferencing (integrations and own)
Content Sharing
Program Management
Goal Setting
Session Notes
Chat
Forms
Engagement Automation
Mobile App
We took the liberty to test the software platform over the course of three months to assess its powers.
Next, let's look at the features in more detail.
Branding
Right from the beginning, the Coaching.com platform stands out from the crowd through its sleek design. The page looks well organized – both on the backend that you see as a coach and the front end seen by the client/coachee.
Like most platforms, Coaching.com allows coaches to customize the look and feel of the platform to match their brand, starting at the Pro or Premium tier. You can add your logo and change the colors of buttons and links.
Calendar integration & Appointment Scheduling


Coaching.com offers multiple options for calendar integrations, for example, with Outlook, iCal, and Google Calendar. Once set up, your calendars automatically sync with your coaching calendar. That means, if a client books time with you, it will be reflected on your connected calendar(s) and also determine your availability shown to a client.
As you can see in the image above, the setup of your standard coaching hours available to clients is straightforward. Simply click the times you are available and the days these times apply to. In the example above, we have created distinctly different hours for one day out of the week, while the rest remained the same across all other weekdays.
You can further determine the scheduling cadence and abilities to schedule for your clients. For example, you may prefer scheduling with a 15-minute buffer to allow for transition between coaching sessions.
In addition, you can set the permission for how fast clients can schedule and how much notice you require for cancellations. This will save you a lot of back-and-forth communication.
As a result, your clients will see this calendar when they want to book time with you: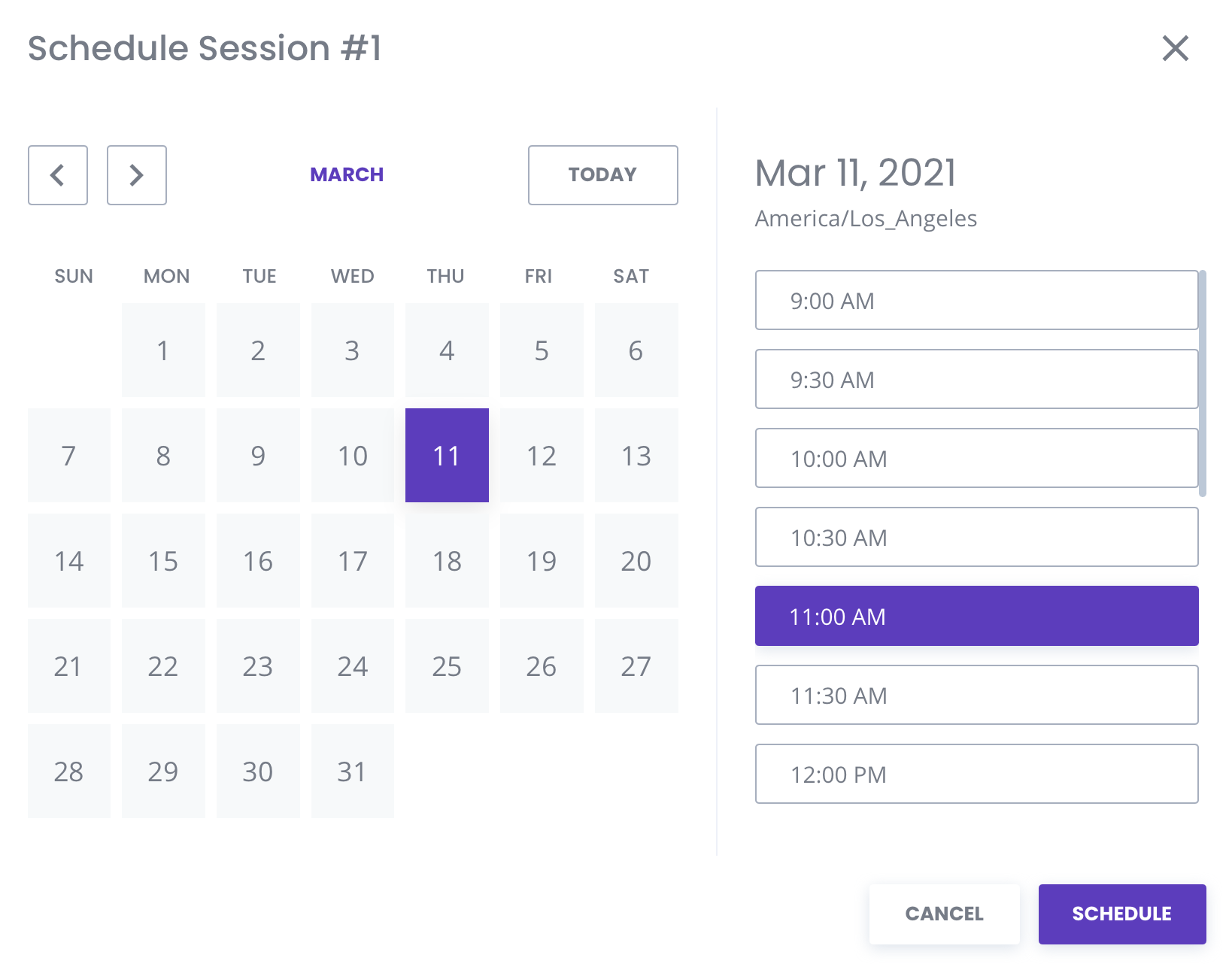 Once booked, the appointment will show up on the calendars you have integrated with.
Billing & Invoicing
At the time of writing this article, Coaching.com offers only a Stripe integration for payments. This is a commonly used payment platform that is very versatile and globally used. It would have been great to see at least one alternative, but perhaps this is in the plans for the future.
Invoices are easy to create, but during our testing, there were multiple issues with setting up recurring invoices from the moment of signing up so that the invoicing and billing process would be automated. This seemed much easier on other platforms we have tested.
With billing and invoicing being key to any business, the lack of this feature became a red flag. Again, this was the state at the time of ending our test in August of 2022 and may be resolved in the near future.
Videoconferencing (integrations and own)
If you are a new coach and/or want to reduce the number of tools you manage for your business, you will like that Coaching.com provides its own videoconferencing solution on its platform.
If you prefer using videoconferencing clients like Zoom, Teams, or Google Meet, you have the option to link them to your platform.
Content Sharing
Uploading content or sharing external resources is easy and visually well organized in your library. Once uploaded, you can decide whether you want to make a resource available to a coaching client or to a group of coaches, or to the entire organization.
Finding what you're looking for is still fairly easy with the search function and an extensive filter menu that allows you to sort by type of resource (video, document, image, etc.). You also have the option to create folders to categorize or sort your content.
Program Management
Coaching.com does a fantastic job of providing coaches the ability to create coaching programs with a few clicks. Once you know the curriculum and content you want to provide, you can set your program up within minutes. We have seen the feature with other providers as well and the user interface felt less intuitive than it does with Coaching.com. Setting up a coaching program was one of the features we enjoyed the most during our test period.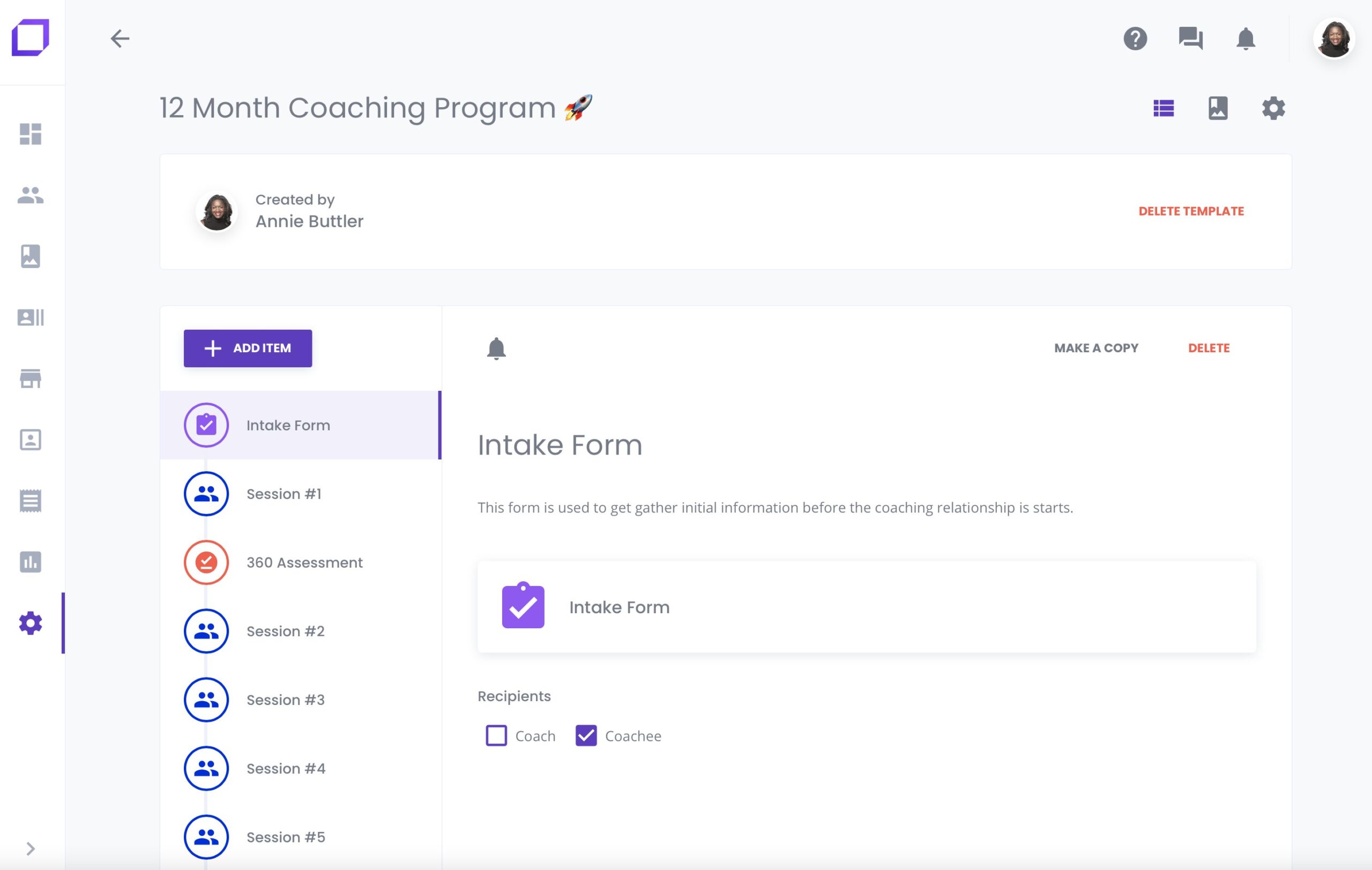 Goal Setting
Coaching.com takes accountability and goal achievement to a new level with the option to receive 360-degree feedback from key stakeholders. Not only could you set goals for your client and track progress; you could allow your client to invite colleagues to provide their feedback regularly to see if you've moved the needle in the right direction.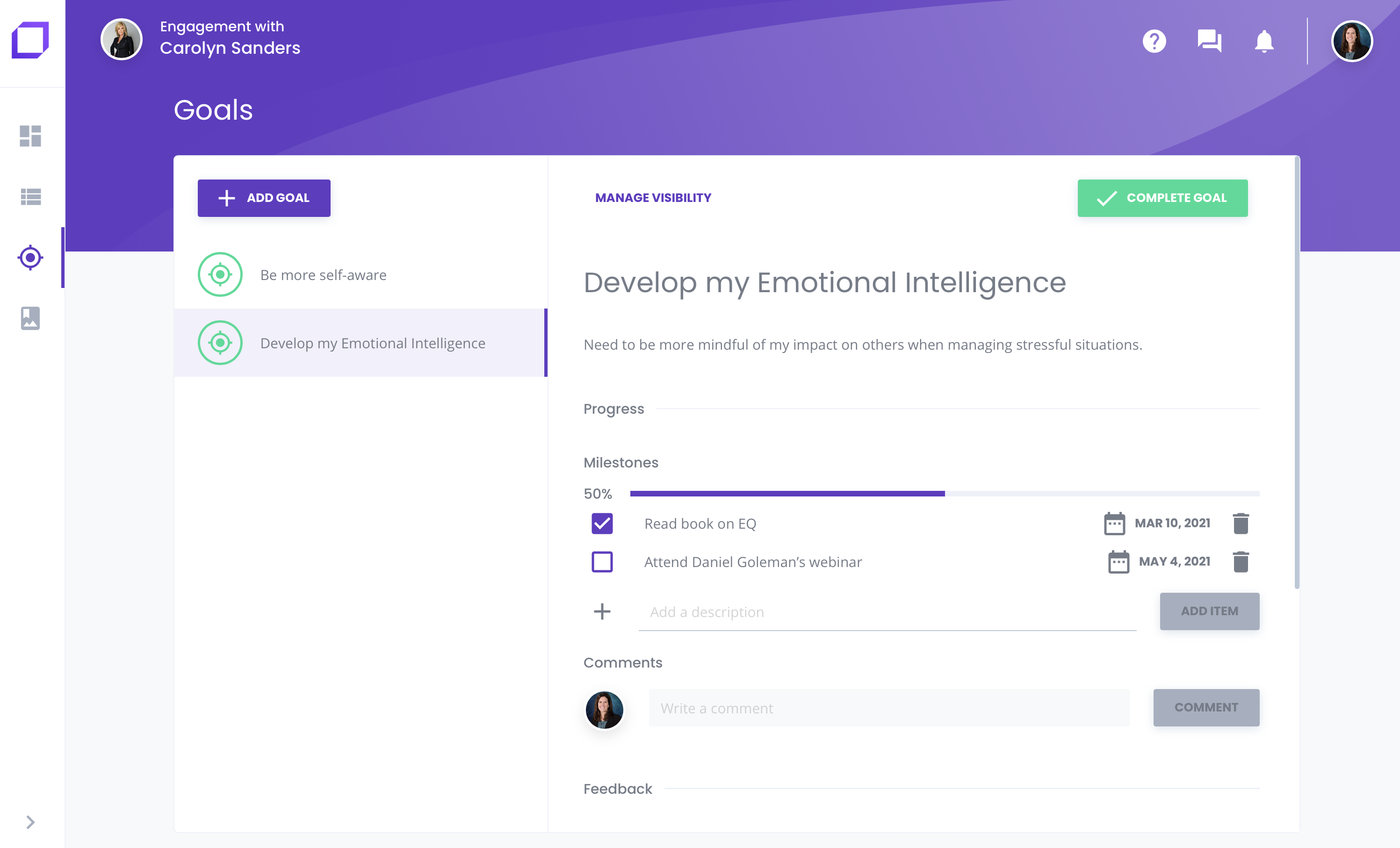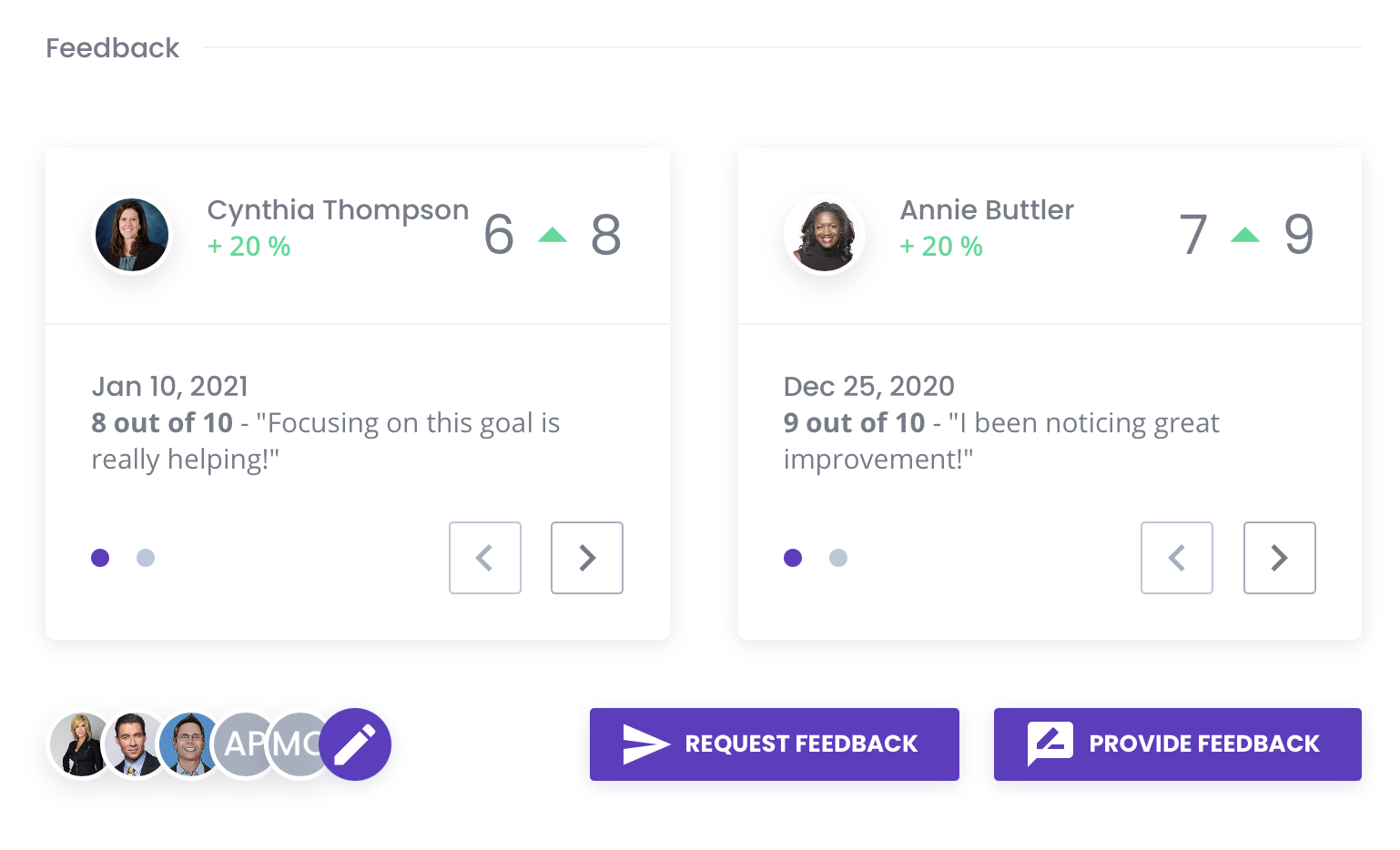 Session Notes
This feature is now a staple that every coaching software platform we have tested (and considered a match for coaching) is offering. It's a simple concept: take notes during a session and easily find them attached to your client records, along with everything else (client's goals, documents, appointments, etc.).
This is helpful because it keeps all client records neatly organized as opposed to a disconnected system of record keeping on your local hard drive, a separate appointment system, etc.
We liked that this note-taking feature is not just a simple text editor, but allows formatting, including a mini task list.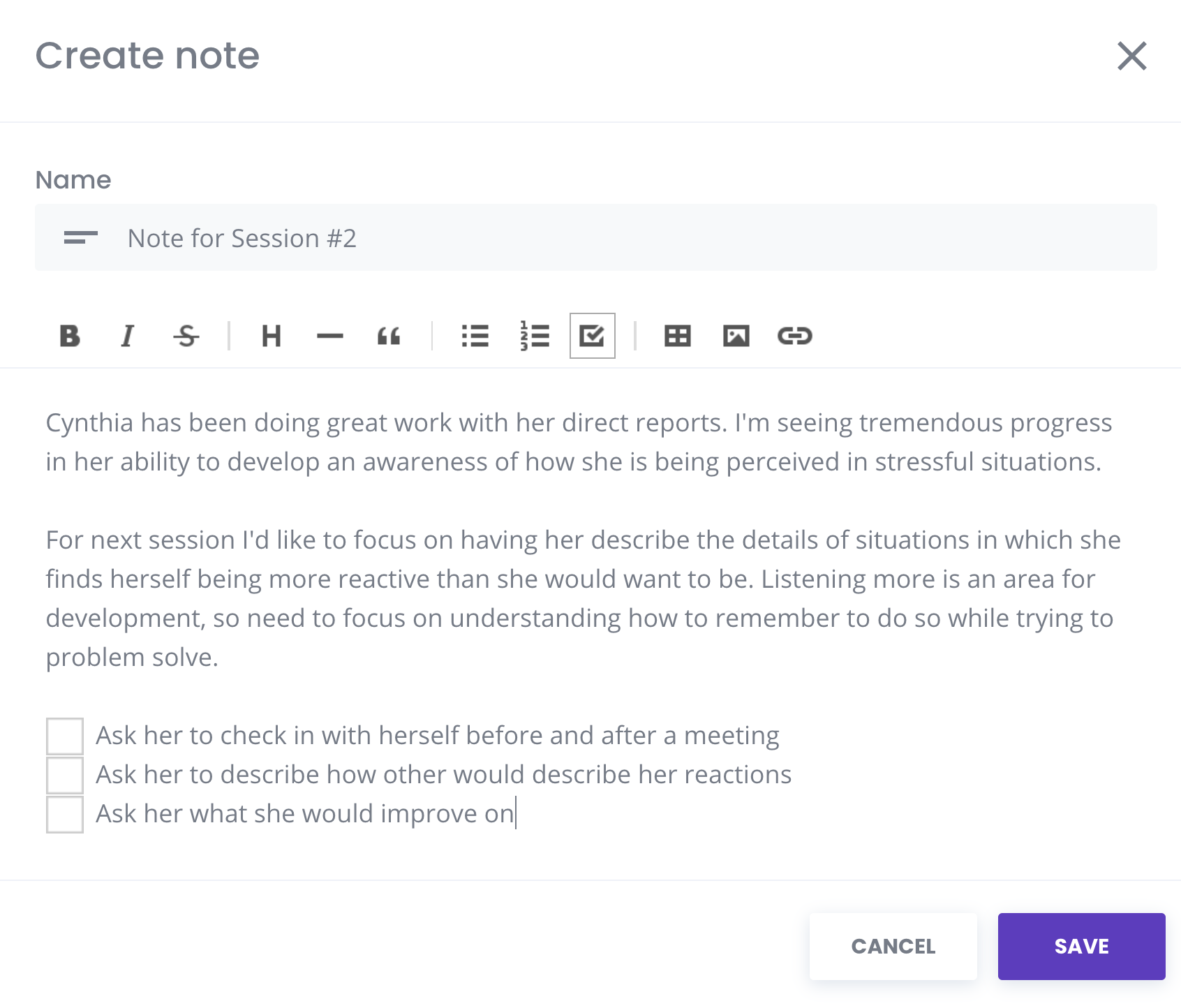 Chat
Why not keep the conversation in the same place your coaching happens? Instead of separate email conversations that are disconnected and not tracked in your coaching timeline, you can chat with the client directly on the platform.
Forms
The forms feature gives coaches the opportunity to create custom forms and analyze the feedback. If you'd like to launch a feedback survey, this is a good way to launch it automatically at the end of a session or engagement. You could also use this to collect feedback on the progress toward a specific goal.
Engagement Automation
How about making your coaching life easier by reducing the time you'd spend manually sending reminders, mailing out documents, and remembering to explain what's next?
Engagement automation allows you to do all that by planning your coaching engagement: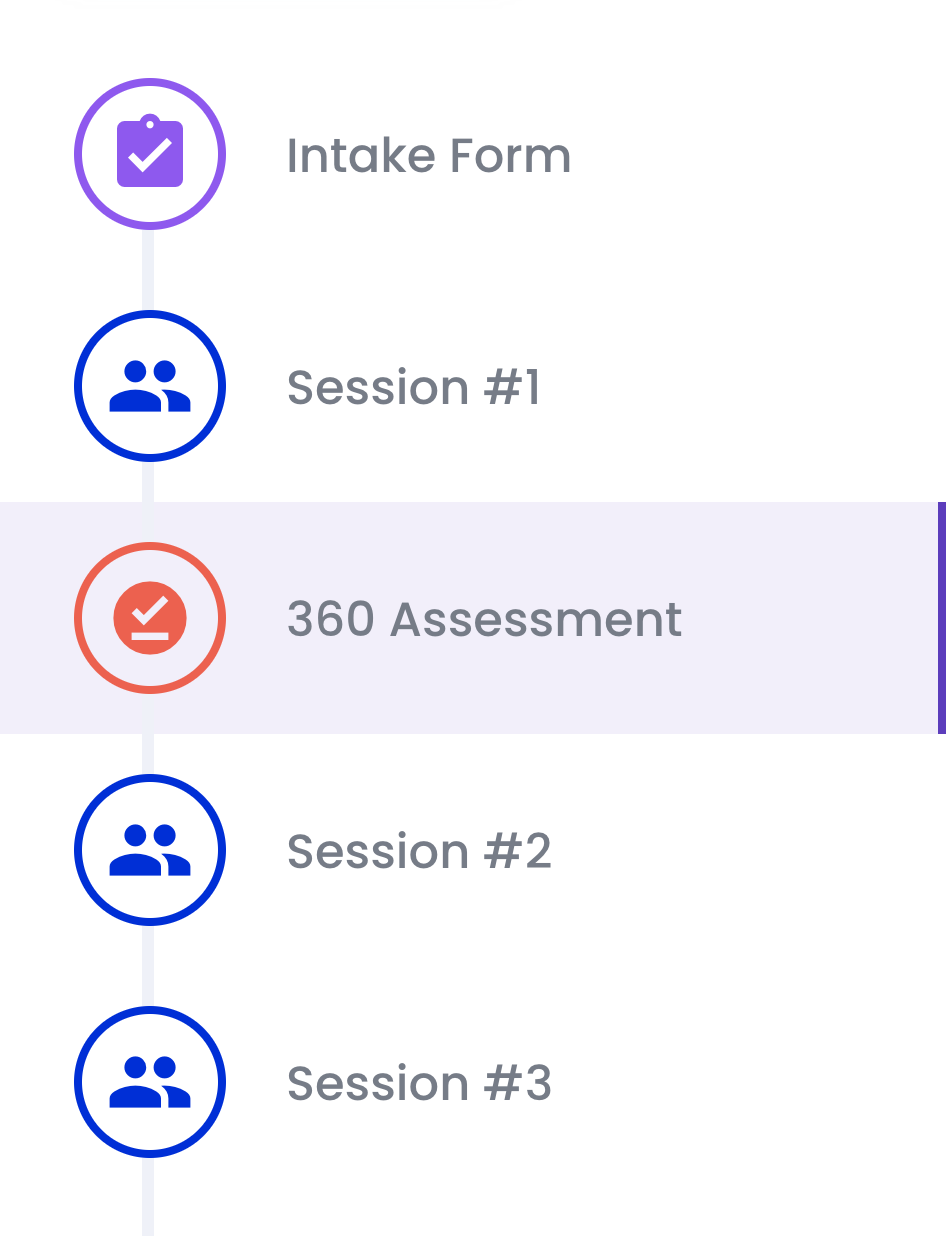 You can predetermine a sequence and define when notifications are sent (e.g. 1 hour after your session) or when documents become available or forms are due (e.g. 48 hours prior to the next session).
You can spend the administrative time you've saved through automation to focus on notifications, progress, check-ins, and *drumroll* more time for coaching!
Mobile App
The Coaching.com mobile app is easy to use and allows you to interact with clients, start meetings, schedule calls, view engagements, and tasks, edit your profile, and more. In a world-gone-mobile, this comes in handy.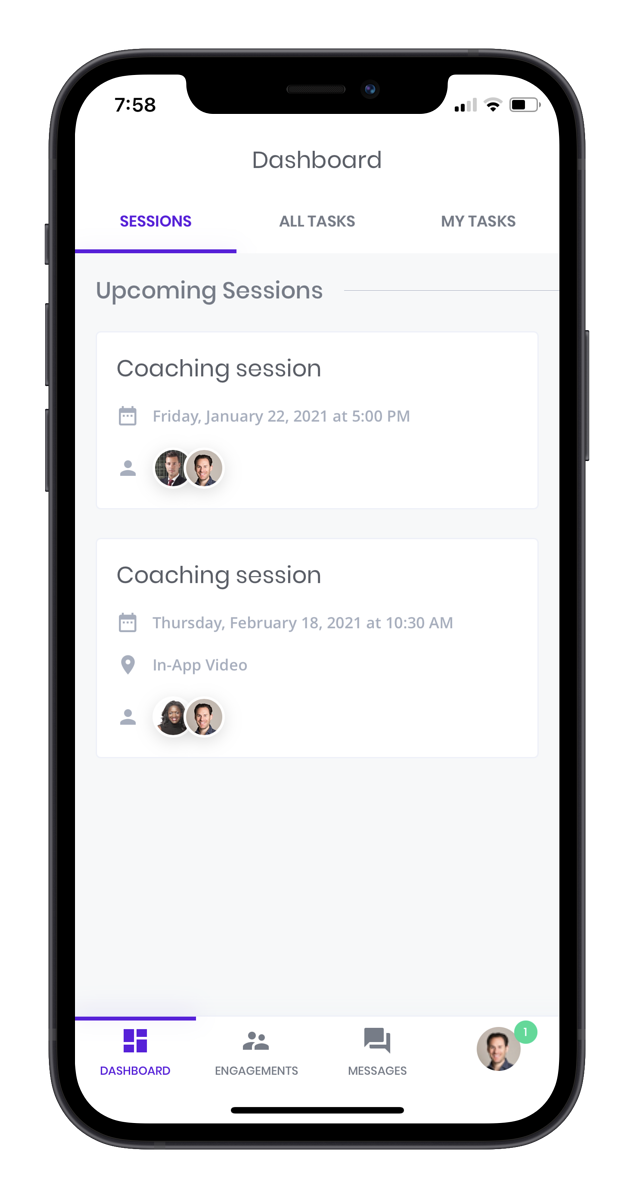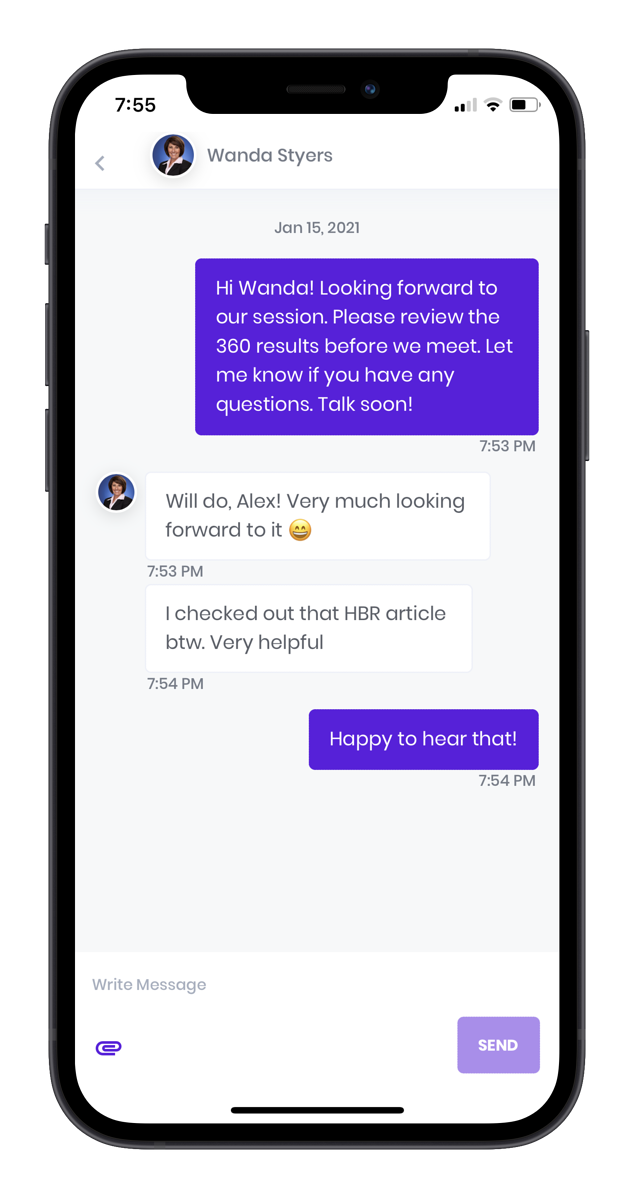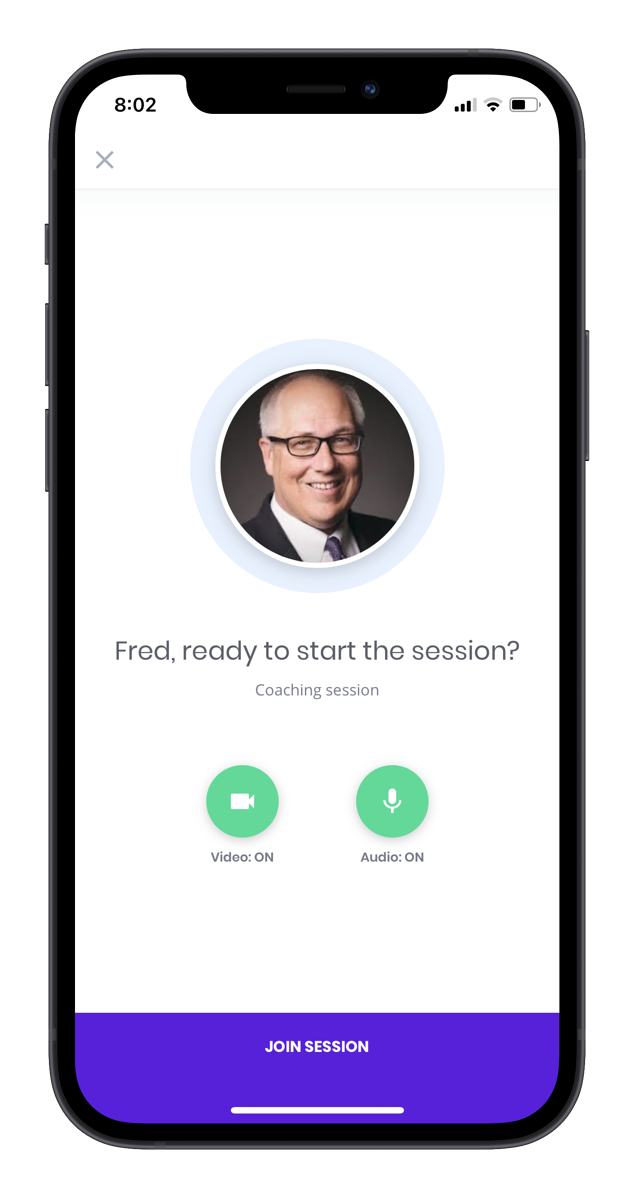 The Pros and Cons of Coaching.com
The platform's initial features are easy to set up and the entire user interface looks well organized.
Coaches looking to combine a directory listing with their coaching platform have found their match. The marketplace funnels leads directly to your coaching platform with leads scheduling their "discovery calls" or "matching calls" directly within your system. It turns the lead-to-client transition into a seamless experience for the coachee.
If you are valuing continued education and want to learn from others in the industry, you get your calendar filled with regular inspiration.
Coaching.com comes with "templates" – we put this in quotes because that's a loose use of the term. Think of these as lists of topics you can coach on. They give you a good idea of what you can cover and you can copy these lists, add to them, and make them your own. This is something helpful to share with clients to identify topics they can cover with you.
We absolutely love the setup of Coaching.com's design of coaching programs. The program allows for different elements to be included and the visual representation of the coaching path or stages makes it easy to see what's happening next.
Another advantage to coaches is the videoconferencing feature. Of course, you can connect with Zoom or other providers, but that often comes with additional costs and work to administer those additional tools. Coaching.com provides its own, native videoconferencing tool.
Customer support was friendly but unexpectedly slow and unhelpful. Many times, we wondered whether support was based in a time zone that doesn't support U.S. working hours. Other times, we wondered why it would take eight weeks to resolve an issue as simple as a link on an invoice or email not working.
Overall, we weren't impressed here. Most responses took 24-48 hours. Their guaranteed response time is 72 hours, and their fastest guaranteed response for Premium accounts is 24 hours – even though this is 4-10 times longer than the best providers in the industry and does not guarantee a final solution. A response may say "we're working on it".
Lastly, coaches have to cover additional costs per transaction on top of the subscription tier – regardless of where the client was acquired. Initially, we understood this to apply only to clients who came in through the marketplace, but the feature comparison on the pricing page states that all transactions are subject to fees.
Our Review of Coaching.com in a Nutshell
We think this platform has high potential. It is a visually attractive platform that covers all the features coaches use most frequently. You get a versatile solution that can be an absolute game changer that frees up time for coaching and growing your coaching practice.
For coaches, who want to get a "3-in-1" deal for software, marketplace, and education, this doesn't get any better. We haven't found a similar offer anywhere else to support you in building a successful coaching business from lead generation all the way to coaching operations.
Pay attention to customer support responses. When you're busy working with clients, you will have little time for extensive troubleshooting over a couple of weeks or even months, so test this intensely during your trial period. This was the part we were least impressed by, to say the least.
When it comes to functionality, we liked what we saw, minus the bugs that need to be ironed out with billing. We recommend to our readers that you make a list of what matters most to you before testing any platform. That way, you can make the most of your trial period as an independent coach. Then, rank each provider in a side-by-side comparison and decide which platform is the best fit for your coaching practice. Perhaps read reviews on pages like Capterra, GetApp, and other comparison sites and see what other coaching business owners had to say.
Read about other coaching software in our side-by-side annual coaching software platform review in our Ultimate Guide to Buying Great Coaching Software. As said in the beginning, Coaching.com was not evaluated in the side-by-side review so far. Expect that to happen in our 2023 review. Subscribe to get notified or to get other updates tailored to coaches.