▸ Do you want to start a coaching business?
▸ Are you overwhelmed by the unknowns or the risk?
▸ Do you want a step-by-step manual to create your business?
The second edition of Start A Coaching Business In 30 Days gives you everything you need to start a coaching business of your own – even if you have no business experience – in as little as 30 days. It starts with an industry deep dive, explains industry trends, explains important organizations, and helps you to understand the different education paths and how to choose one that's worth the money. 
After that, you're getting equipped with the essential steps and business tools you need to start a coaching business. Lastly, Start A Coaching Business In 30 Days provides you with an in-depth planning section that includes examples, checklists, and worksheets to make sound decisions for your business to set you up for success.
We found it important to make this book practical. There are many great books covering theory in depth, but we saw a lack in books helping someone to create a coaching business plan without a business degree or background in coaching or entrepreneurship. This prompted us to publish the print edition in workbook format and embed worksheets and working segments with action prompts in the later part of the book.
Second Edition Updates
The second edition of Starting A Coaching Business in 30 Days is nearly twice as long as the first edition because we have completely updated the entire book and added important information to every chapter. We have also added additional segments on important parts you will need to start a coaching business, such as creating compelling websites and having coaching templates. This is no easy endeavor for someone starting a business, especially if you have no prior knowledge or experience in this area. 
We have added a ton of resources with links to make starting and building your business as easy as possible. We have also added more of the popular worksheets and kept the print edition in letter format (workbook style) so you can work directly into the book. 
For those of you who are digital natives, we recommend opening the digital book version on a tablet. We also provide instructions in the book to download the worksheets with a passcode to use them in PDF for digital editing or to print them as needed. The entire book was restructured to make the navigation even easier to follow. 
This version is great if you prefer to read your book anywhere you take your devices. The digital version of Start A Coaching Business In 30 Days allows you to easily click and open the large amount of links provided in this book.

In addition to the worksheets included in this book, you can access the worksheets in this book as downloadable PDF versions via a digital key provided inside the book. That will give you access to a password protected website. This will allow you to download and print the worksheets or conveniently edit them on your computer or tablet.
The print version of Start A Coaching Business In 30 Days comes in US Letter format and allows you to use it like a workbook. The paper has a velvety feel to it and is thick enough so most ink won't bleed through the pages.

The worksheets in the second part of this book leave you space to work through your own business planning. It also serves as a reference you can return to at a later point.

You can download additional copies of these worksheets with the access provided inside the book to a password protected website.

And since the print edition won't give you the convenience of clickable links, we have added all links referenced in this book to the appendix - neatly sorted by chapter.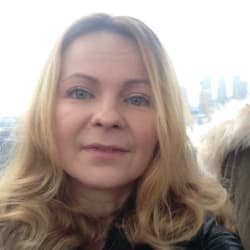 Iza L.
A complete guide to starting your own coaching business!
Your book is packed full of information on starting a coaching business. It covers everything you need to know, from explaining what coaching is to attracting your very first client. The author has pulled together a complete guide to starting a coaching business with tips ranging from choosing the right career path to getting the proper certification and that first client. I found the book well organised and easy to understand, with helpful links to additional tutorials and worksheets if I wanted to know more. This book is not your run-of-the-mill "start an online business" book. It is a complete guide to setting up a successful coaching business, whether it's a side gig or a full-fledged business. I found the step by step instructions on finding that first client helpful, and it's clear that the author has extensive experience in the field. The author uses straightforward language to discuss a wide range of ways to connect with your prospective clients. She discusses techniques like understanding your client's needs to actively listen to each individual's needs. The book explains the importance of identifying your ideal customer and niche, which I found helpful. She clarifies throughout the book that your coaching business is not about selling coaching classes but delivering a valuable service to someone in need of help. Overall, I found this book to be a very informative and comprehensive read. The tips, worksheets, and exercises were concise and helpful to building a coaching business online. It is a great resource that can be referred to time and time again.
Louie Cruz
Finally! A actual how-to manual
This is absolutely a must read.👍 I tend to steer away from business books that are based on story telling. I need facts, I want examples and I want direct to the point information. This Coaching Manual is a compendium of remarkable knowledge and information. And, with the "how to application" That I find indispensable when I read a book. The level of information, detail, data, charts and references depicted by the author is beyond impressive. There is so much to absorb that you will need to read it more than once. The other benefit that I found is that I can use it as a reference manual for back up data. This is a great and valuable book. I will highly recommend it to my business associates and friends.
Minka
A very helpful book 👍
This book has been super helpful in getting my coaching business started. All the things I need are covered and explained in simple terms. I love how practical this book is - no abstract theory but practical steps with links to get things done without wasting time. I spent most time in the second half of the book, where the implementation worksheets and are and it helped me to start my business even faster. Now I can enter the new year as a business owner!
Reena
So practical!
This is exactly what I need to plan my own business for next year. Everything is explained, even things I didn't consider yet: - what I could earn as a coach - what coaching schools are available - what software I will need - how a typical coaching session is done - how I find clients - what type of business to register I have yet to work through the entire book, but the chapters I read so far were easy to read and loaded with helpful information and recommendations. I like that it's a workbook and that I have plenty of space for my own notes.
Clarence
One of the best books
Very detailed and motivational for a beginner or professionals. Marketing has been simplified. Don't look further the author has done well by tackling all the necessary tools needed in this social media Era.
Sign Up For The Newsletter
Coachilly Magazine is an online coaching blog covering the tools and technology side of coaching for professional life coaches. Coachilly Magazine is also a community of coaches who help others to build and grow great coaching businesses by sharing best practices.
Coachilly Magazine shares content on coaching technology, marketing for coaches, sales, coaching psychology, and many other related business topics. Coachilly is on a mission to provide hands-on insights that can be directly applied.
To become part of a community who cares about your success as a coach, join the Facebook group or subscribe to the newsletter to stay up to date on events and new content for coaches.