Online security is hardly any of the topics coaching business owners talk about in the beginning. That's a costly mistake. This post will explain with a simple infographic why securing your coaching business with a VPN is a must.
The "Before" Scenario
Imagine this: It's 12:45 PM on a Wednesday afternoon. You are fifteen minutes away from your next coaching call with a new client who had just signed up to work with you. You return to your desk after your lunch break and realize that your account got hacked and you cannot access your coaching account. Or your website is held for ransom until you pay a ridiculous amount of money you simply don't have. Your thoughts are everywhere.
Most small business owners or new coaches do not think about those things when they start their coaching business.
While you are likely more focused on building your empire, it is important to insure yourself early on against cyberattacks. Not only that, having proper safeguards in place will not just prevent your business from costly downtime where clients can't access your page, but it is also important for your clients as you prepare to keep their data safe.
VPN – One Key Way To Secure Online Business
But for this post, let's focus on one aspect of safety: VPNs.
VPN stands for Virtual Private Network. Think of this as your hidden path on a public, and very busy street (the internet). This is also called a "VPN Tunnel" for that reason. Your traffic stays inside that "tunnel" where your information is safe from prying eyes like advertisers and hackers.
This used to be the top-recommended tool for traveling entrepreneurs who use a lot of public WiFi. However, this is also useful when you are on your home WiFi and live in a highly frequented neighborhood where an intruder can easily tap your WiFi for critical information.
As a coaching business, you will need a VPN when you:
handle confidential customer information (see point 9 in this article)
work on confidential business transactions (e.g., bank transfers, your online accounting)
transmit important data
are traveling or working from a public place (e.g., a coffee shop)
Below is an infographic by NordVPN to illustrate why this is a MUST for small businesses and what you can do to protect your coaching business.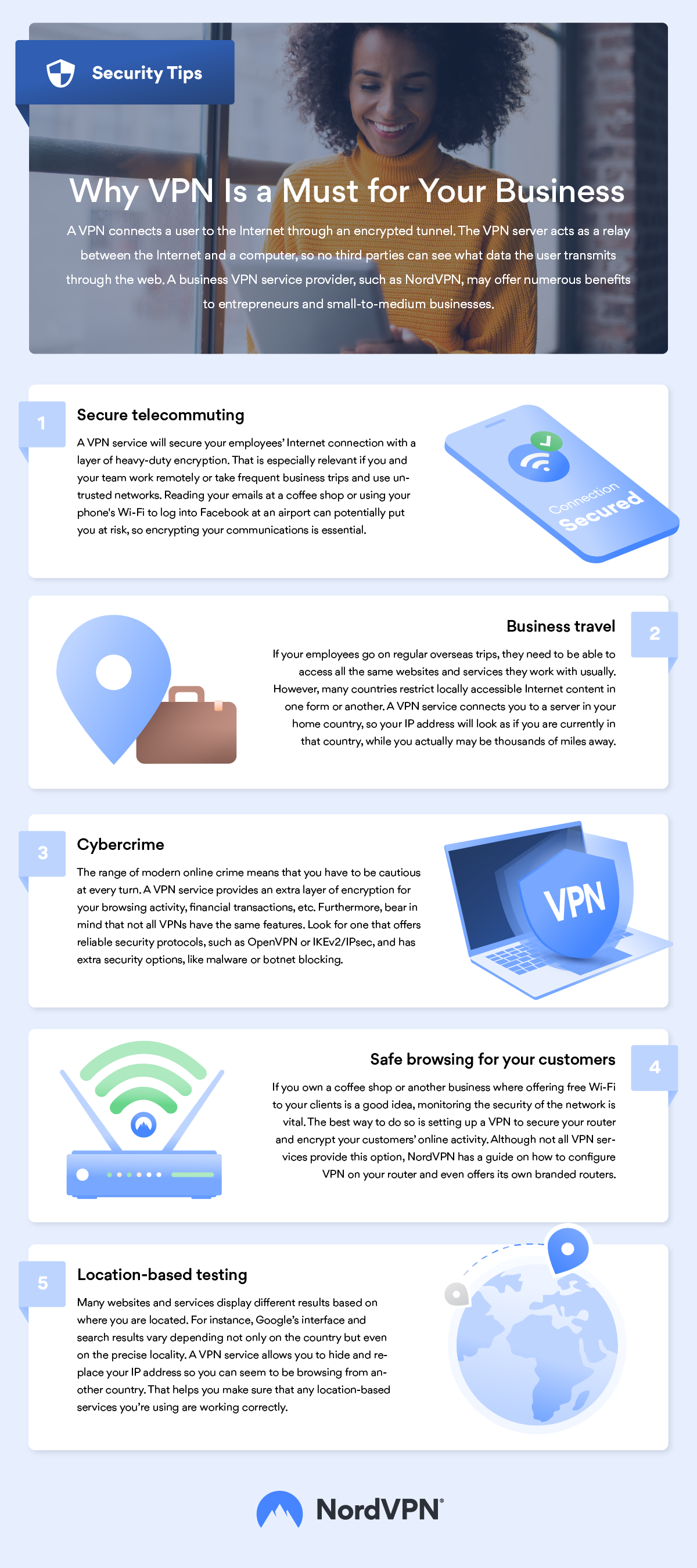 What You Can Do
Consider your surroundings. If you are traveling for business, or you are a Digital Nomad (congratulations!) and are working from an exotic location other than your home, consider creating a safe connection.
Before you settle for any provider, take a look at a few. We recommend looking at NordVPN because
it has outstanding user ratings
it is easy to use
it is affordable
it is a top-rated provider by CyberNews, CNet and PCMag.
But there are others out there. Take a look at this in-depth comparison article from PCMag, CNet, and CyberNews to explore the options for yourself.