Have you been thinking of hiring a social media marketer but aren't sure where to turn?
When one of our coaches first decided to hire one, she searched everywhere to find a great fit. Since this isn't a cheap service, she wanted to make sure she hired the best fit for her team! Unfortunately, the promises agreed upon weren't in line with the results delivered…so she went back to the drawing board (and to did all the work herself).
A few months later, she found out that there is a number of tools available to us, for the sole purpose of handling social media marketing!
If you're wanting to save your time and money while improving and increasing your engagement and reach, you may want to try on the ones we will be showing you today!
Why Do I Need a Social Media Marketer?
Whether you hire a person or invest in software, a great marketer can transform your business.
Since you're a coach, you can't always wear all the hats within your business. That's why it's beneficial to invest in something or someone to take things off your plate.
One of the best places to start for this is outsourcing your social marketing.
Regardless of how good you are at it, having tools that are focused on marketing can only be in your best interest, because it frees you up to work with clients.
Here are our top 3 recommendations for any coach looking for great social marketing software.
Missinglettr – Easy Posting and Curation Software
Unless you're new here, you probably have heard by now, but Missinglettr is our favorite social media marketing helper!
It allows you to plan content to be posted up to a year in advance…and it only takes about an hour!
You can start by trying their services for FREE. Then, after you realize how great they are, you can choose the best plan for you.
Also, watch our mini-tutorial explaining how you can create a year's worth of content in less than an hour with a few steps. At the end of the tutorial, we are providing a short demo on how you can do this using Missinglettr.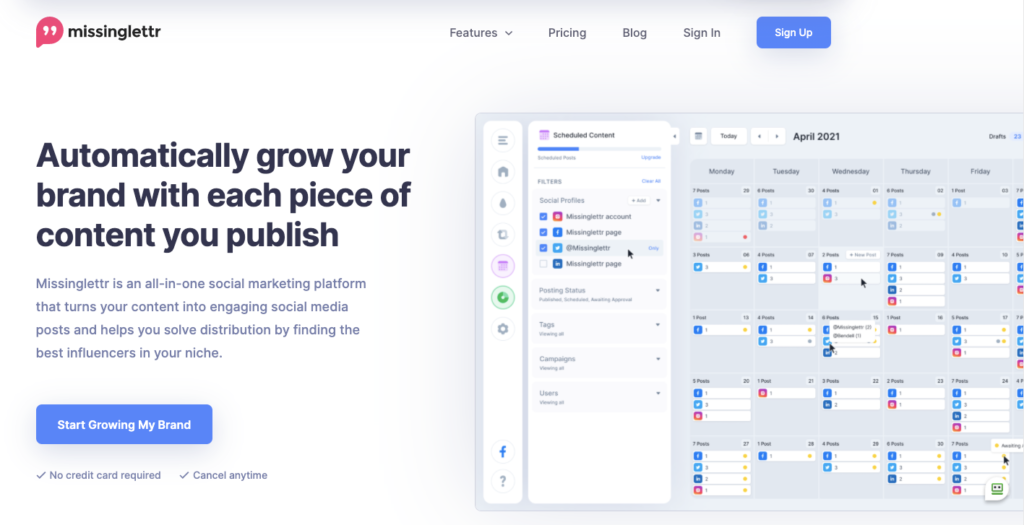 CoSchedule – Well-Known Social Media Planning Software
CoSchedule is another great app for scheduling content to get posted to your accounts.
With its feature to manage 6 social media platforms at one time, you never have to worry about missing a publication date again. No more nights laying down and thinking, "OH NO, I forgot to post today."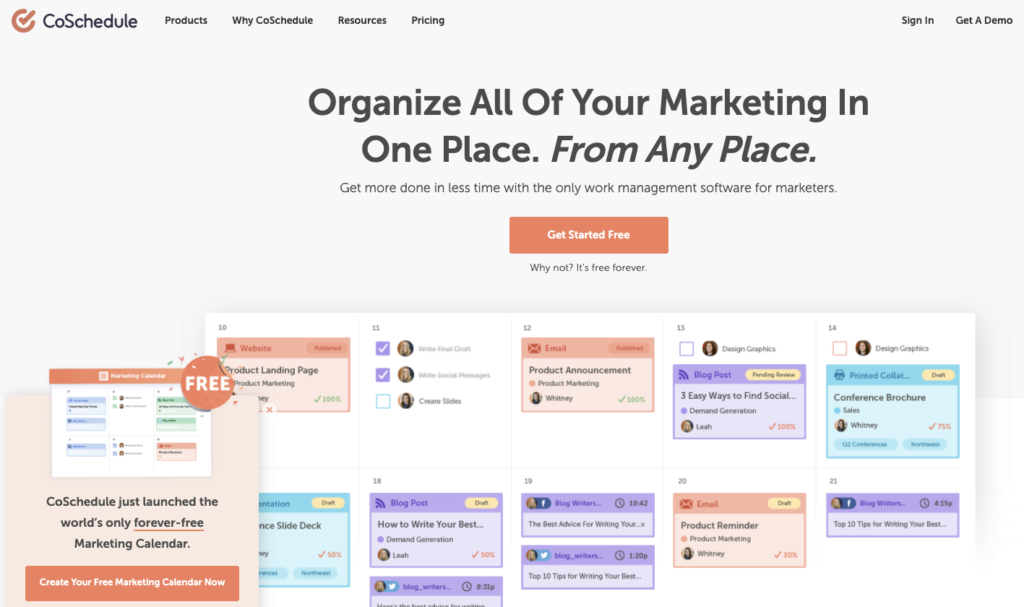 Try the calendar out for free – and while you're at it, take a look at their HeadlineStudio as well. It is a phenomenal (also free) tool to write better headlines that convert. This tool ensures that your audience will want to click to read more. It will simultaneously help your click rate on social media posts and boost your website SEO.
Hootsuite – Manage Multiple Social Media Accounts From One Platform
Allowing you to try their platform for 30 FREE days, we couldn't keep this a secret from you.
With the lowest package, you'll give Hootsuite access to up to 10 social media accounts and be able to schedule an unlimited amount of posts at any time.
This option does require a larger budget, though. Its starter package is at $49/month, then packages increase up to $599+/month.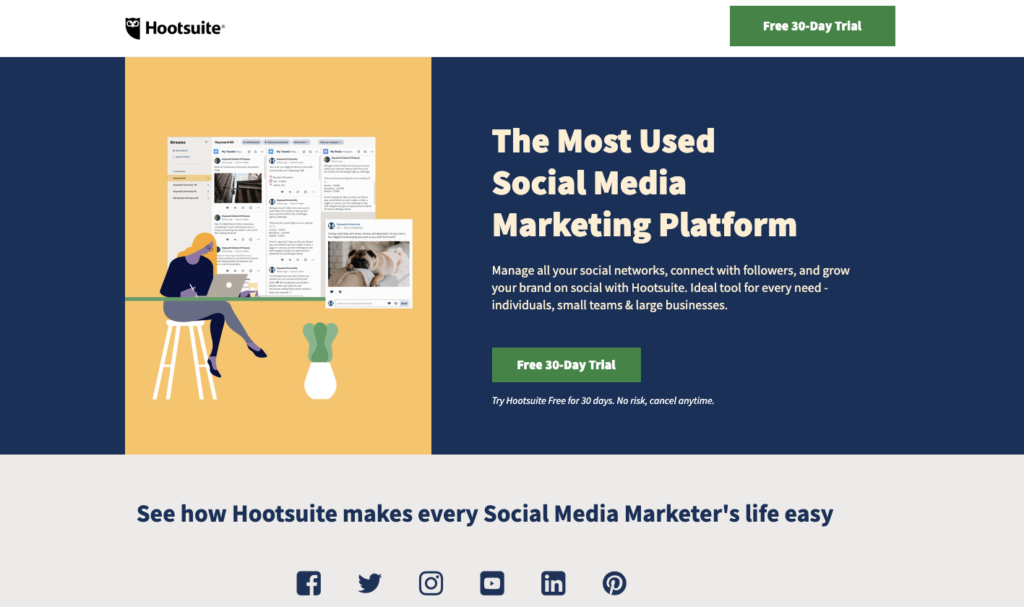 Test These Social Media Marketing Tools Yourself
If you find yourself constantly feeling overwhelmed with social media and marketing tactics, it's time to get some help! These apps are some of the best in the social media marketing game, and you can't go wrong with any of them. But you can't take our word for it and expect it to work for you. We recommend you "try before you buy" in a strategic way that doesn't waste your time:
Checklist To Prepare Your Software Trial Before You Buy:
Make a list of challenges you want the tool to solve
Rank your list by importance
List most important features
List key integrations the provider should work with (e.g., your calendar tool?)
Create a test case (use case) that describes a typical scenario you want to use the software for
Block time on your calendar for testing before you sign up
Mark your calendar with a reminder a day before the trial ends so you can turn off the accounts you don't want to use
Write a vendor review so you can help others
With all the help they'll provide, you'll be able to focus on what matters: coaching.