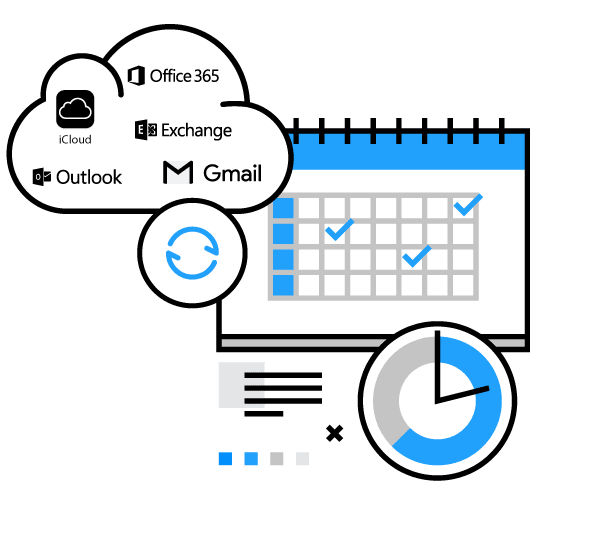 Scheduling tools exist to take away one pain that plagued us for as long as business existed. Let's cut straight to it: You need to book clients on your schedule. And who likes endless back-and-forth messaging to find a date and time that fits all schedules? Surely, you've got better things to do than coordinating appointments all day. That's why we did not look at every scheduling tool on this planet, but selected only four alternatives to Calendly that we believe work well for a coaching business.
We've looked at four solutions as alternatives to Calendly that will let your clients schedule themselves on your calendar. Some of them have better prices, others have a broader set of features that we believe are a better fit for coaches. Ready to see how this works?
Easy Setup Of Scheduling Tools
All you need to do with any of these scheduling tools is link your preferred calendar account (Google Calendar, Outlook Calendar, or perhaps your iCal). This will allow the scheduling app of your choice to read your calendar to determine your availability. It will also allow your booking app to schedule an available time on your calendar without any need for your involvement.
The booking app will not schedule a time on your calendar when you are not available or do not wish to be scheduled. Once you set the rules for times you are open to being booked, and buffers you prefer between meetings (say, 15 minutes to finish your notes and grab a sip of your morning coffee), these scheduling tools understand your preferences and see your actual availability.
Your clients will only be offered times that you are actually available and will select a time slot that fits right in! No one will be able to schedule a time during your blocked hours.
Calendly – The Most Famous Scheduling Tool
Calendly allows you to embed your booking tool on your website or embed a link in your email. That way, your contacts can book time on your schedule according to your availability. It's that easy.
Calendly offers a free basic account but has severe limitations. For example, if you have more than one calendar you need to connect (perhaps a family calendar, a contractor account, and your business calendar), you will have to choose a single account.
Premium accounts start at $10 per month if you choose a monthly subscription or $8 per month for an annual subscription. The premium account allows you to connect two calendars. For most coaches, this will be more than sufficient.
Calendly has a ton more features and integrates well with enterprise software. It is very easy to set up and affordable, but we think that it is not the ideal scheduling tool for new coaches because coaches tend to prefer having multiple appointment types and landing pages associated with it. BLAB seems to handle this better, with simple pre-designed and easy-to-customize landing pages and scheduling pages that match your brand.
5 Awesome Scheduling Tools As Alternatives To Calendly
With that being so easy to set up, take a look at these three great tools. We are looking at "BLAB" or, Book Like A Boss, first, because they are currently offering a LIFETIME DEAL at the time of writing this, so grab it before it's gone!
All these tools help you to book appointments with people before they become clients. We have written in a separate post about tools that help you run your entire coaching practice and most of them also allow your clients to self-schedule appointments. What do you do with your leads, you know, those people who are not yet customers but would like to inquire about your services?
You use a scheduling tool that requires minimal information from your leads and is easy to set up. Below are four easy tools to choose from.
Of course, there are far more options out there and you'll likely find other articles with ten or more tools compared, but we cater to professional coaches and therefore looked for tools that we think will best suit the needs of individual coaches and coaching businesses with teams that need scheduling capability.
1 – Book Like A Boss (BLAB) – The Swiss Army Knife Of Scheduling Tools
What makes BLAB stand out is the constantly increasing list of awesome features:
Scheduling automation tool
Landing pages
Collecting payments / payment integration
Custom branding (make it look like your own brand)
Create coupons
Integrate with Zoom
Embed scheduler on your website
And these are only a few great things to mention. Book Like A Boss currently offers a lifetime deal on Appsumo. That means you pay one time and have the service for the rest of your exciting life. Once this deal is gone, use this link to get the next best alternative deal with them. You better hurry.
Go to the Lifetime Deal or, once expired, go to this referral deal.
2 – Trafft – The Scheduling Tool For Teams & Paid Bookings
Trafft is a preconfigured tool that allows you to set up your account and publish your schedule for appointment booking with just a few clicks. You can custom-brand your calendar and collect payments for each appointment type.
But it does even more than scheduling and payments: it also manages employee timesheets
This seems to make it a great tool for coaching businesses that have a team of coaches or several appointment types (e.g. priced per coach). This would make the direct allocation of a booked session and payment attribution to that specific coach easy. Your calendar booking takes care of the accounting as well. Neat.
3 – Hubspot Meeting Scheduler – Integrates With Your CRM
Chances are, you already know Hubspot and are using it for your CRM (Customer Relationship Management). Why not use this extremely popular software as your scheduling tool?
Once set up, you can message your contacts from within the app and either manually or automatically add your calendar link.
Hubspot's other great features:
Provide multiple options for the meeting length
Create custom intake forms
Schedule individual or group meetings
Embed your calendar or scheduling tool on your website without coding knowledge.
The basic version of Hubspot is entirely free, including the scheduling tool. If you coach both individuals and groups, you may enjoy the ability to switch between individual and group meeting links.
4 – TidyCal – Pay One Lifetime Price For Your Scheduling Tool
Oh, you're gonna love this! If you are looking for an alternative to Calendly's scheduling software costing you monthly fees, this is it! This alternative is not having as many features as others, but is also extremely easy to set up and reliably does what you need it to do: schedule your appointments!
TidyCal costs a low one-time fee (lifetime deals, anyone?!) at the time of writing this article.
The tool is simple to set up and even easier to use. No more haggling to find a good time or manually exchanging information to get the date on the calendar.
Say welcome to your personal assistant. Give it a try!
5 – Bonsai – Integrated Scheduling for Your Business
This is one you don't want to miss! Bonsai scheduling allows you to create your branded booking page and customize it for different types of meetings in just a few clicks.
Aside from that, it comes with other essential features for your coaching business: CRM, contracts, invoicing, client forms, client portal, and more. For example, once a client schedules a meeting with you, the client's contact information is synced with Bonsai's CRM, so you can effortlessly send your clients invoices, and forms, share session notes, files, and more.
Bonsai's other great features:
Client forms integrated into your website (where you can add your scheduling link)
Integrates with Google Workspace and other essential tools
Proposals, Contracts & E-signing
Financial management (invoicing, payments, accounting, taxes, banking)
Hundreds of free templates
The Verdict: Calendly Or Alternative Scheduling Tools?
It depends on your use case. Calendly has been around for a while and integrates with a lot of other tools. But it also has a monthly fee if you want to have a decent feature set, like connecting more than one calendar, etc.
Other scheduling tools have set themselves apart from Calendly by offering landing page templates that save you time to set up separate websites for different services. Others integrate with your CRM system and also offer group scheduling tools (Hubspot) or work best for managing a team of coaches (Trafft). We found Bonsai to be a great all-in-one tool that goes far beyond just scheduling but has the ability to power your entire business. Lastly, if you are on a budget and need basic features and all future upgrades included for one lifetime price, TidyCal is your choice.
For most coaches, we have found Book Like A Boss (BLAB) to be the most versatile scheduling tool. New coaches love it because it spares them the design of a separate website since it comes with easy to customize landing pages, allows for paid and free meetings, and allows you to create booking pages for meetings and services. Seasoned coaches like it because it gives them a lot more control than most other calendar services, including custom URL, embedding, integrations, etc.
Lastly, if you have already set up a coaching platform, you may have a meeting scheduler included with your coaching software and have no need for alternatives. If you're still looking for a great platform, take a look at our in-depth, side-by-side review of coaching software platforms.
Are you looking for other tools for your coaching business? Check out our Deals & Promo Codes page. We update this page regularly with seasonal and permanent offers for software, products, and services to help you grow your business.
---
We are an affiliate: We hope you enjoy our articles. In many of our articles, we review and recommend products and services. Some of them are not affiliated with us, others are. Just so you know, when you decide to purchase items that were referred on this page via a link, we may earn a commission as an affiliate. Thank you if you do use our links – it is a great reward for the work we put in to create this content and we appreciate you!