Some coaches dread the work of performing regular marketing activities just to generate coaching leads. It's understandable – you want to spend time coaching clients! You have several options to create leads – they range in effort and effectiveness.
We've decided – just for this article – to exclude funnels, social media and email outreach, events, and ads. Instead, we are focusing exclusively on directory-style platforms that put you in front of thousands, in some cases millions of leads. These directories are also called marketplaces and we found five marketplaces that we think are a great fit to get coaching leads.
Key Differences In How You Pay For Coaching Leads
Each lead platform has its own business model. The main differences in the pricing model are
Paying for membership – usually annually
Paying a fixed fee per lead
Paying a percentage per converted lead
A combination of the above
Examples Of Pages To Get Coaching Leads:
Noomii
Noomii focuses specifically on coaching leads. This coaching directory has been around for many years and helps you to create a great coaching profile.
If you sign up with Noomi, you will be offered to schedule a call to record an audio interview with a Noomii employee. This is entirely optional but very beneficial as this recording gives you the opportunity to talk about your business and who you're helping.
Take a look around Noomii's directory and listen to a few recordings from other coaches to get ideas.
Fee Structure
Noomii charges an annual fee. Coaching leads who contact you directly via your profile are yours to keep without extra fees.
If you decide to apply to be matched to leads in their daily updated leads list, be prepared to pay 30% of your contract value for these types of leads.
Thumbtack
Thumbtack focuses on leads in many categories, including coaching. This is one of the largest lead generation platforms with over 10 million users.
You have a range of tools available on your profile to make your business stand out. Thumbtack provides tips on how to improve your profile and you will see a "completion score" as well. For example, profiles with videos or images get more coaching leads.
Fee Structure
You set your budget every week. If you do not change it, it remains the same. The beauty here is that you can change your budget based on your business needs. If you have a lot of clients, you can dial your budget down or turn it off.
Fees for leads differ based on your rates and on the type of service. Thumbtack provides previews for the cost per lead so you're not getting caught by surprise.
The great thing about Thumbtack is, you pay only once for the lead without any fees for joining the platform or any contingency fees as share of revenue.
LifeCoachHub
LifeCoachHub focuses on providing you with coaching leads.
Fee Structure
Joining their directory to get listed as a coach is entirely free. If you want to get a "featured listing" that shows up on top of your coaching category when a lead looks for a coach in your field, you will have to join a priced plan. At the time of writing this article, the fee for additional features, including a featured directory listing, is $37 per month.

Coaching.com
Coaching.com is a somewhat "new kid on the block". Somewhat, because it's not entirely new. The names CoachLogix and WBECS may sound familiar to you if you've been a coach for a while. In 2022, Coaching.com acquired WBECS after the coaching software platform CoachLogix had rebranded itself to Coaching.com.
Today, Coaching.com is a 3-in-1 solution as we explained in our detailed review of this online coaching platform (cloud software). Coaching.com provides:
A coaching marketplace (a profile listing in their directory, which matches coaching leads with coaches)
An online coaching platform (coaching software to run your coaching operations)
Coaching education via WBECS. WBECS offers a year-long online summit with high-profile speakers from across the globe. Their education content is approved for CCEs (Continuing Coach Education Credits) by the ICF (International Coach Federation). Coaches need these to accrue learning hours toward their coaching certification.
The coaching marketplace is having extremely high potential to get your coaching business found online because it uses the most obvious domain name one would google when searching for a coach. What's better than "coaching.com"?
Fee Structure
Join their directory for free and get a basic online coaching platform account (coaching software) included.
For clients who find you through their marketplace, you'd pay between 25% if you have a free account.
For coaches choosing to sign up for premium tiers, the commission fee goes down to 20% or 15%.
Attention: regardless of this commission fee, coaches pay between 1-5% for payments collected through the platform, after other fees for payment processors (e.g. Stripe) are paid.
LinkedIn Services
LinkedIn Services is part of the popular LinkedIn social networking platform. This is the largest business network with a whopping 800 million members worldwide and growing!
You can set up your profile at no cost, but to get leads, you will have to join their paid service. The great advantage for coaches in the business, leadership, executive, and career coaching niches find their entire target audience conveniently in one place.
Many coaches resort to creating endless connection requests with insincere messaging that is often perceived as spam. Instead, you can either change your strategy to stand out from other coaches who employ sleazy strategies or choose a different avenue that responds directly to those who are actively looking for leads. That place will be LinkedIn Services, which directly integrates with your LinkedIn profile.
Fee structure
LinkedIn used to charge a monthly fee for their ProFinder service, which was discontinued in Q4, 2021. This new format, called LinkedIn Services, allows you to create a service profile page entirely free.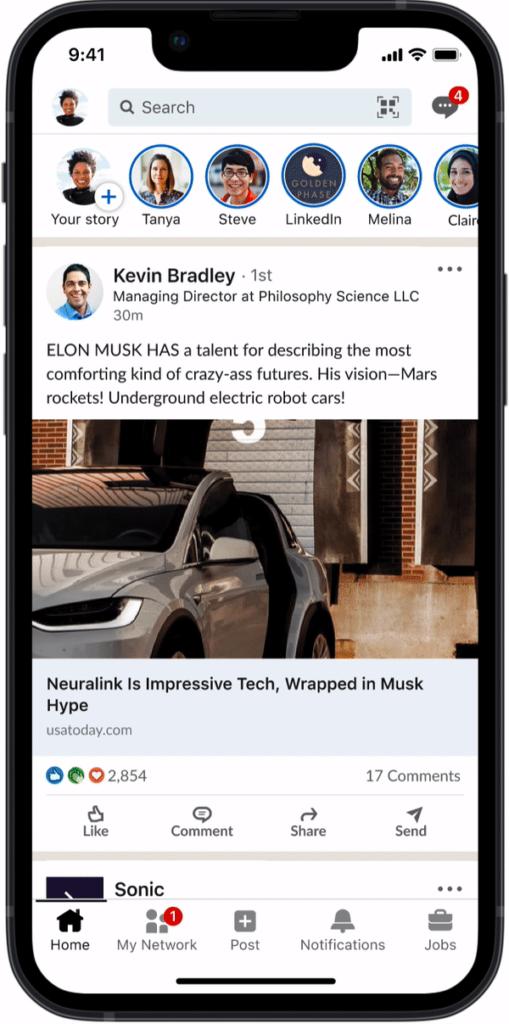 Ensuring Ongoing Success In Getting Coaching Leads
You will still need to stay involved as leads won't convert themselves to clients. Here are a few things that coaches have shared that gave them great results:
First, sign up to get alerts (via email or the provider's app) so you don't miss a lead request!
Be quick to respond to leads. Statistics show that responses within the first 3 hours of a request are more likely to convert to a client.
Keep your profile updated – schedule time in your calendar for a quarterly check. Make sure you include a professional photo or use your logo. Tailor your profile to address your ideal target audience. You can refer to our guide on identifying your niche in 6 simple steps (including a free worksheet) if you haven't done so already.
Add images and videos that showcase your services and allow your profile visitors to "get to know you" a little. If they like what they see there, they are more likely to request a discovery call with you.
Consider developing a few standard responses that answer the most common questions you receive. Save these responses somewhere to copy and paste them for faster responses. Some platforms allow you to save templates. Thumbtack is a good example. You could include a link to a specific landing page, a link to schedule a free consultation, your signature, or share a free lead magnet or other documents.
Finally, invite clients to submit reviews every time you have worked with them for a while and they are happy. Happy customers are more likely to post a review when they are asked at the time of satisfaction. Coaches found that it's often hard to obtain a review if too much time has passed between your coaching engagement and your request for a testimonial.
👉 You can occasionally find promotion codes on this page for these providers.
Best of luck with getting great coaching leads!